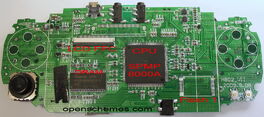 PSPKOX SPMP8000 Wiki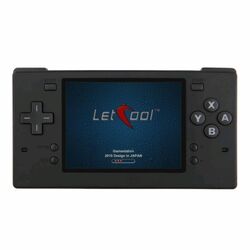 PSPKOX wiki originally intend for PSP clone PMP player but since it was so many generic PSP clone in the market, it was changed to support the whole SPMP8000-based devices such as JXD1000, Letcool and the many other PSP clone. Almost all SPMP8000 devices use the same operating system which is claim to be eCos with microwindows
[1]
.
PSPKOX is abbreviate of PSP (SONY PSP) Knock-off X. This is a gaming devices developed by China based company, Suncom Digital and is built based on Sunplus processor SPMP8000 and it's variant. JXD version of this device also have similar attributes which is called JXD1000 (JXDPSP) by some manufactured by JinXing Digital , a China based company. This wiki page is intend to provide a place for PSPKOX users with resource regarding PSPKOX such as firmware download, tools and utilities, software and game.
A new SPMP8000 devices called Letcool is getting many attention from various game device forum such as GP32X and Dingoonity . Letcool have a new function that give it very strong selling point which is 2-player mode. Letcool have enough potential to attract homebrew developer to improve the weak software side of many SPMP8000 devices.
This wiki also intend to be the platform for homebrew developer who interested in programming for this devices which is not very young but still lack of homebrew scene.
Pages
Articles
Development And Modding - Current existing development
FRMorp Tutorial - Firmware Dumping Tutorial
FRM Pro v3.3 - Firmware Flashing Tutorial
Installing LIBUSB Tutorial - For usage with FRMorp
Issues and Problem - Issues around SPMP8000 OS, emulator and hardware.
Linux Port for SPMP8000 Development
BIN Game Download - BIN Game for SPMP8000 Compatible Device
List of Discussion - All the interesting discussion around growing spmp8000 homebrew.
Where to buy SPMP8000? - Website and price comparison
Latest activity